Exceptional Simplicity In a New Generation Electrolyte Analyzer
Introducing a new generation electrolyte analyzer that combines the revolutionary micro-electronics of the consumer world with new micro-sensor technology for a simpler, smaller, faster, and less expensive analyzer.
ZERØ™ Maintenance Cartridge System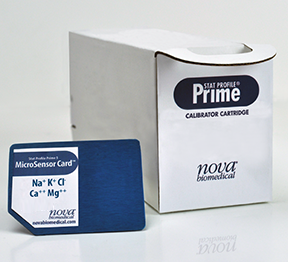 Nova's unique cartridge system consists of a ZERø maintenance micro-sensor cartridge that contains all sensors in a miniaturized sensor card format, and a ready-to-use, snap-in calibrator cartridge that contains all reagents.
Available electrolyte profiles:
Na, K, Cl, iCa, iMg Na, K, Cl
Accepts whole blood, plasma, serum, urine, CSF, and dialysate. "Dialysate not for in-vitro diagnostic use"
1-minute stat testing
Optional 10-position autosampler
Maximum Analyzer Readiness and Uptime
The MicroSensor Card is automatically calibrated throughout its 32-day use life and is always ready to deliver an electrolyte profile in just 60 seconds.
A unique Clot Block sample flow path is designed to protect sensor cartridges from downtime and maintenance that can result from the introduction of a clotted sample.
Biohazardous waste is self-contained within the Calibrator Cartridge, eliminating waste disposal maintenance and potential exposure to biohazardous waste.
True liquid QC provides the only reliable test of an analyzer

In the United States, federal government regulations (CLIA) are phasing out electronic equivalent quality control (EQC) and are requiring true, liquid-based quality control (QC). Stat Profile Prime combines both true liquid QC and continuous electronic self-monitoring to ensure lab accuracy and uncompromised quality.
QC prompting and QC lockout
Stat Profile Prime provides an on-screen reminder of your customized QC schedule. Out-of-range QC results are automatically flagged and an optional QC lockout feature prevents reporting of patient results when QC is out of range.
Levey Jennings charts and QC statistics


Levey Jennings charts along with cumulative mean and CVs are automatically calculated for each analyte and displayed on screen.
Safe, Easy Sampling from Syringes, Capillaries,Tubes, and Cups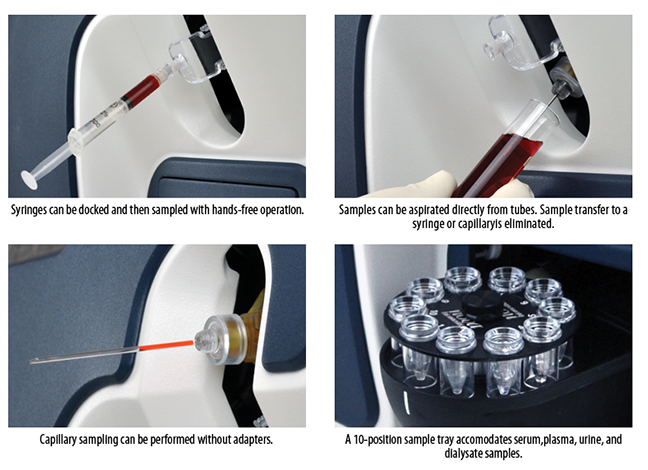 A unique safety sample port protects the user from accidental contact with the
sample probe and is easily accessed for all sample containers.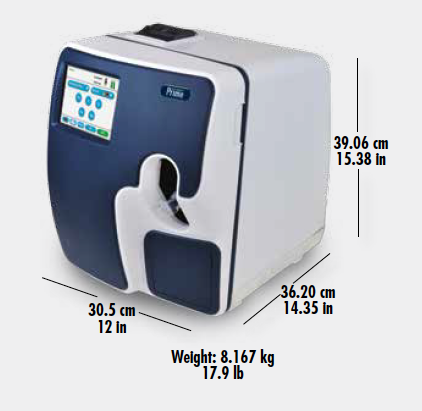 Stat Profile Prime's 30.5-cm footprint occupies minimal bench space. It is so compact it can also be located on a mobile cart for testing in many locations.
Onboard Printer
Patient and QC results can be printed automatically or on demand. The printout also displays normal ranges for each test and flags results that exceed normal range.
Plug-and-Play Connectivity to LIS/HIS
Stat Profile Prime easily connects to laboratory information systems and hospital information systems via industry standard, unidirectional POCT1-A2 communication format or ASTM format.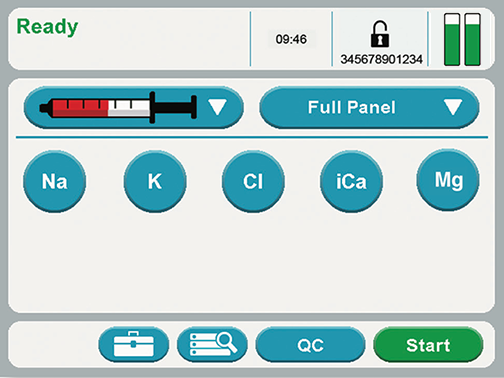 Easy-to-use, high definition, color touchscreen operation

The touchscreen is easily operated through the use of simple and intuitive prompts and requires minimal training.
Three simple steps

1. Press "Start" 2. Scan or enter patient ID 3. Press "Aspirate"
Optional, integrated barcode scanner

The touchscreen is easily operated through the use of simple and intuitive prompts and requires minimal training.
Stat electrolyte results in 60 seconds

Whole blood, serum, or plasma stats are available in just 60 seconds. Whole blood stats can be aspirated directly from syringes, capillaries, or tubes, saving time and sample transfer steps.
Stat Profile Prime MicroSensor Technology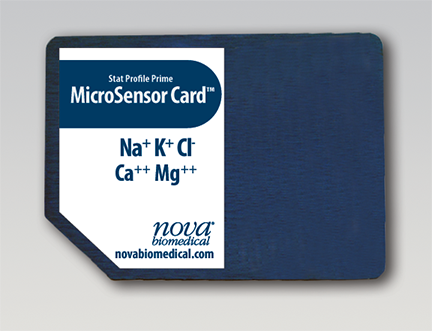 Accuracy

All Stat Profile Prime tests use proven Nova technology in miniaturized, sensor-card format.
Complete Electrolyte Profile

Sodium, potassium, ionized calcium, ionized magnesium, and chloride are all required to maintain normal cardiac function. Disruptions in the balance of any of these electrolytes can cause cardiac arrhythmias, reduced cardiac contraction, and complete cardiac arrest. Stat Profile Prime is the only electrolyte system to provide a full assessment of electrolyte balance.