Nova Electrolyte/Chemistry Analyzers
Fast, Easy Whole Blood Stat and Routine Testing
Nova electrolyte/chemistry analyzers provide a whole blood stat analysis in as few as 36 seconds, 24 hours/day. For higher volume routine testing, Nova analyzers provide batch analysis, walkaway automation, and rapid throughput of up to 475 tests per hour. A single analyzer can analyze whole blood samples for stat testing, serum and plasma samples for routine testing, CSF and dialysate samples for specialty testing, and urine samples without pre-dilution, recalibration, or reprogramming.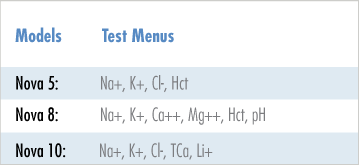 Central Lab and Point of Care
Nova's wide selection of menus and models, simple operation, excellent stat or batch capabilities, and versatile sample requirements combine for unprecedented testing flexibility in any location, including:
Central Lab
Emergency Department
Intensive Care Unit
Operating Room
Renal Dialysis
Outpatient
Most Economical Operation
When the total costs of equipment, labor, reagents, biosensors, and supplies are considered, Nova electrolyte/chemistry analyzers are the most economical to operate in the industry. Nova's long-life biosensors are more economical than single-use, disposable types. Moreover, Nova's exclusive Reagent Management System (RMS) and single reagent pack design are less expensive than the multiple, individual bottles on competitive systems.
Walkaway Automation and Batch Analysis
Nova electrolyte/chemistry analyzers are fully automated with sample analysis completed at the touch of a button. A fully-automated, 40-position sample tray is available for batch analysis.
For more information, click here or contact Nova Biomedical at:
Nova Biomedical / 200 Prospect Street / Waltham, MA 02453-3465 / 781-894-0800
Certifications & Compliance:ISO 13485:2003 Quality System Registration, IVDD, Meets IEC 61010, UL, CSA Standards FDA Labeling:For in-vitro diagnostic use. Patented Technology. Patents 6,287,451 / 6,837,976 / EP 1 212 609 / CA 2,375,092 / EP 1497 449 / JP 405 0078 Specifications subject to change without notice.